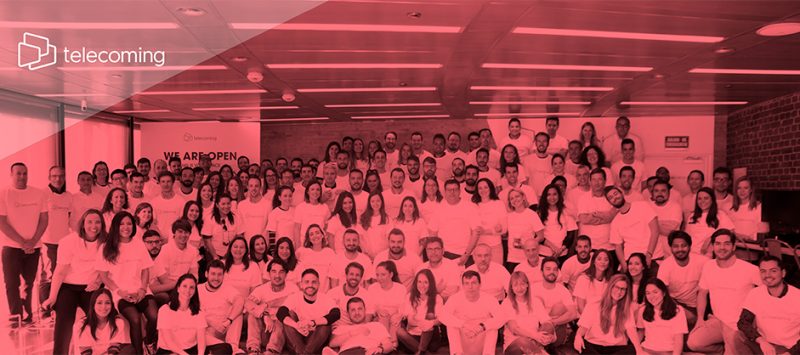 Our people are our greatest asset and we are proud to count with a diverse, multicultural and dynamic team. Today we are going to unveil our secret to foster collaboration, build strong relations and share knowledge.
We are fortunate to count with 23 nationalities within our team. This offers us a window to other cultures, exposes us to new ideas and perspectives and ultimately enriches everyone's knowledge, creativity and productivity. The synergy of experiences in a dynamic team ready to take on new challenges is, without question, one of our keys to success.
In order to make the most and take care of our talents, we have launched the "People Always First" initiative. A project that encompasses all internal actions to help our teams immerse themselves in our culture and enrich us by learning more about others.
Build trusted business relationships
Our initiative 'Sport Telecoming' was born in 2016 with the objective of motivating our team to exercise, bound and get to know each other through different monthly activities such as hikes, paintball, yoga, canoeing or marathons. Last year we carried out a total of 10 sports activities, receiving over 400 applications and registering 190 attendees.
Promote diversity through open-mindness
Every two months, a host and nine guests enjoy a themed meal in an event called 'Meet & Eat'.  They discover through gastronomy the cultures and customs of the people they work with. The host presents his or her country by sharing dishes and stories. An experience that has 'transported' participants to countries such as Peru, Spain, Romania and Brazil through the power of stories and taste.
Attract, develop and retain talent
'Hit the City' is the new project where we invite our talents to discover Madrid's cultural offer by organizing visits to museums, neighbourhoods, theatres and traditional cafes. The city where we are based has an incredible offer of cultural activities. We are convinced that spending time together, sharing this amazing city, is a great way to strengthen personal relationships.
Our team is younger than 31 years old (average, of course!) and is made up of more than 23 nationalities. Hit the city is a great activity for foreign people and any Madrid enthusiast.
Learn by sharing experiences
In addition to all these actions, our 'Early talks' project gathers every two months 10 people to enjoy a breakfast with a Director. He or she talks about their work, background, life experiences and learnings. We organized 10 of these inspiring meetings last year, 10 chats in a relaxed atmosphere that encourages questioning.
Through these teambuilding activities, we animate our talents to develop to their full potential not only their work-related capabilities but also personal skills. A happy team is able to achieve the best results and enjoy new challenges. At Telecoming we enjoy the work and we enjoy the result!