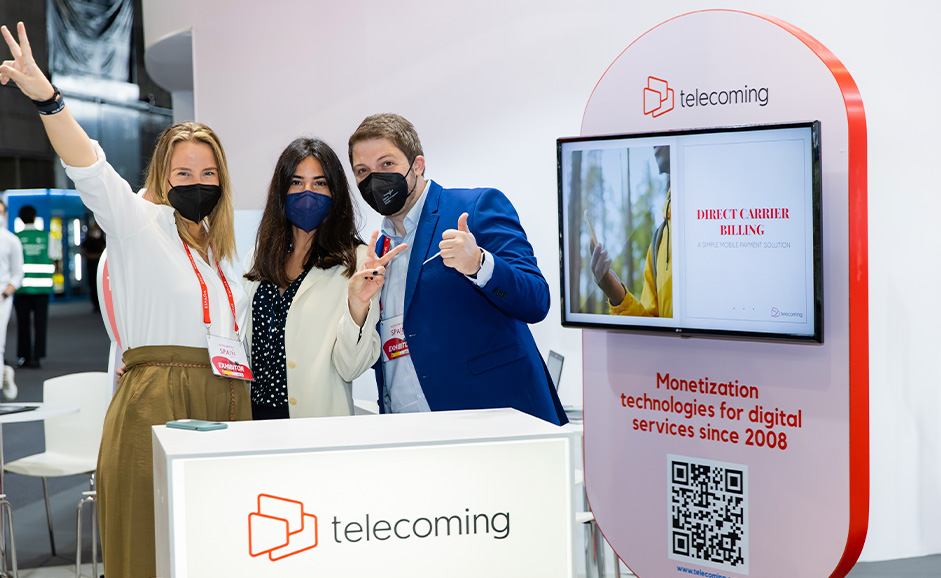 Two weeks ago, the Mobile World Congress in Barcelona reopened its doors after stopping due to the pandemic. We were one of the 25 Spanish companies participating at the Spanish Pavilion at this edition. It was exciting; we didn't want to miss the opportunity to do business face to face!
The most relevant aspect of this atypical edition was the significant security measures that the GSMA prepared to prevent any incident inside the venue. All attendees were tested for antigens before entering the event, and QR codes replaced flyers and other utilities typical of such celebrations.
Moreover, the institutional presence at the Spain Pavilion was reinforced. Personalities such as Nadia Calviño, vice-president of the Government, did not hesitate to visit us and be interested in Telecoming's project and our Dpay solution.
Patricia Peiró Hergueta, Chief Communications Officer at Telecoming, says: "I am a big fan of innovation, and I believe that spaces like the MWC are needed so that companies can share new projects. In this edition, we have seen brave entrepreneurs with interesting proposals that will impact our digital lives. It has been fantastic for Telecoming to be part of the Spanish representation".
We closed our activity with Rodrigo Santiuste, our Country Manager in Spain, who presented the mobile payment solution Dpay. "This has been a great opportunity to interact live with the players in our market and the ideal moment to meet international content providers with exciting projects and ideas. I am happy to have been part of the revival of such an important event".
From Telecoming, we would like to thank the whole Red.es organisation for their work's treatment and dedication to the companies in the Spanish Pavilion. It has been a positive and highly productive experience, and we hope to meet again very soon in the next edition.
Marta Ferrero Heras, Deputy Assistant Director of External Relations at Red.es: "The Spanish companies that have been part of the Spain Pavilion are an example of technological innovation in our country. At red.es, we want to support them in their growth through actions such as the MWC in Barcelona. We are convinced that it is necessary to promote and encourage technological development in Spain from the institutions".
We are already counting down to MWC 2022. See you next year in Barcelona!
 Subscribe for
Weekly Stories