Welcome to Telecoming's workplace
Today on our corporate blog, we open the doors of our offices to you. Dear reader, please, take a look around and feel at home!
As architect Kjetil Trædal  Thorsen said, architecture does not exist without people. This quote could sum up what inspired us to design our workspace: our team.
One of the things that the pandemic has highlighted is that being comfortable in the workplace is essential to our mental wellbeing. According to Raconteur's study, what workers have missed most during these months are scheduled meetings with colleagues, socialising with others, and impromptu face-to-face interaction.
So it is more important than ever to feel secure and happy in the workplace because we can't forget the influence of the environment on personal motivation. According to a study by Sodexo, a motivated team performs 44% better, and employee engagement increases by 27%.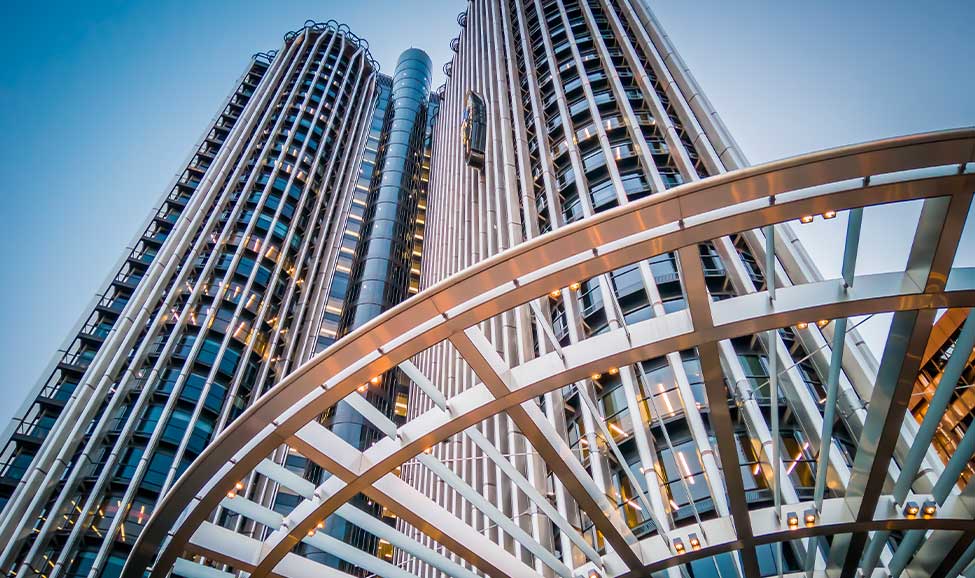 A place that inspires
We know that our comfort at work is directly related to our ability to concentrate and be creative. An office is a place where we spend a lot of our time, so being in an area that inspires us is essential to achieving great success.
Carolina Fernández, our Chief People Officer, says:
"There are many benefits of having a good workspace. Feeling comfortable in the office is a great motivational contribution, it allows us to be more relaxed, which influences our ability to make decisions. We carried out the office renovation project to contribute to happiness at work".
Below, we show you some peculiarities of our offices. We owe the reason for our success to all the people who make up Telecoming. This is very important to us, so in our entry, you will find photographs of each of the employees who are part of our history.
Who said that booths were extinct? Booths are among the most useful things in the office, especially now that we have many teams working remotely. Video calls are constant, and booths allow us to free up meeting rooms and enjoy a comfortable space to hold conversations without disturbing anyone.
And concerning inspiration, nothing better than remembering the great personalities of history. Those brave people from the sports, fashion, science, technology, art or philosophy industries, who changed the world, are also in our office and safeguard our stuff. Please have a look at our beautiful lockers.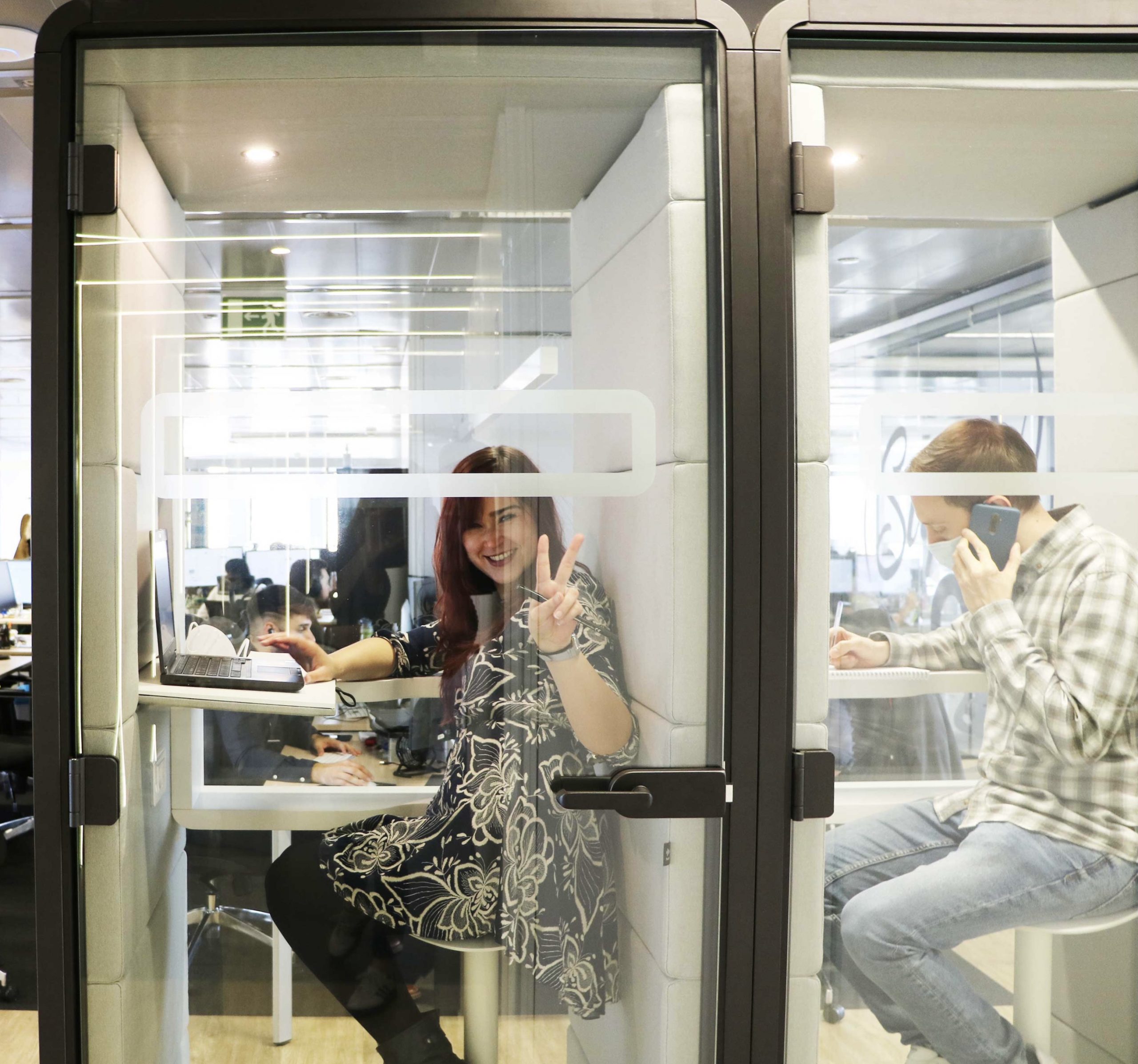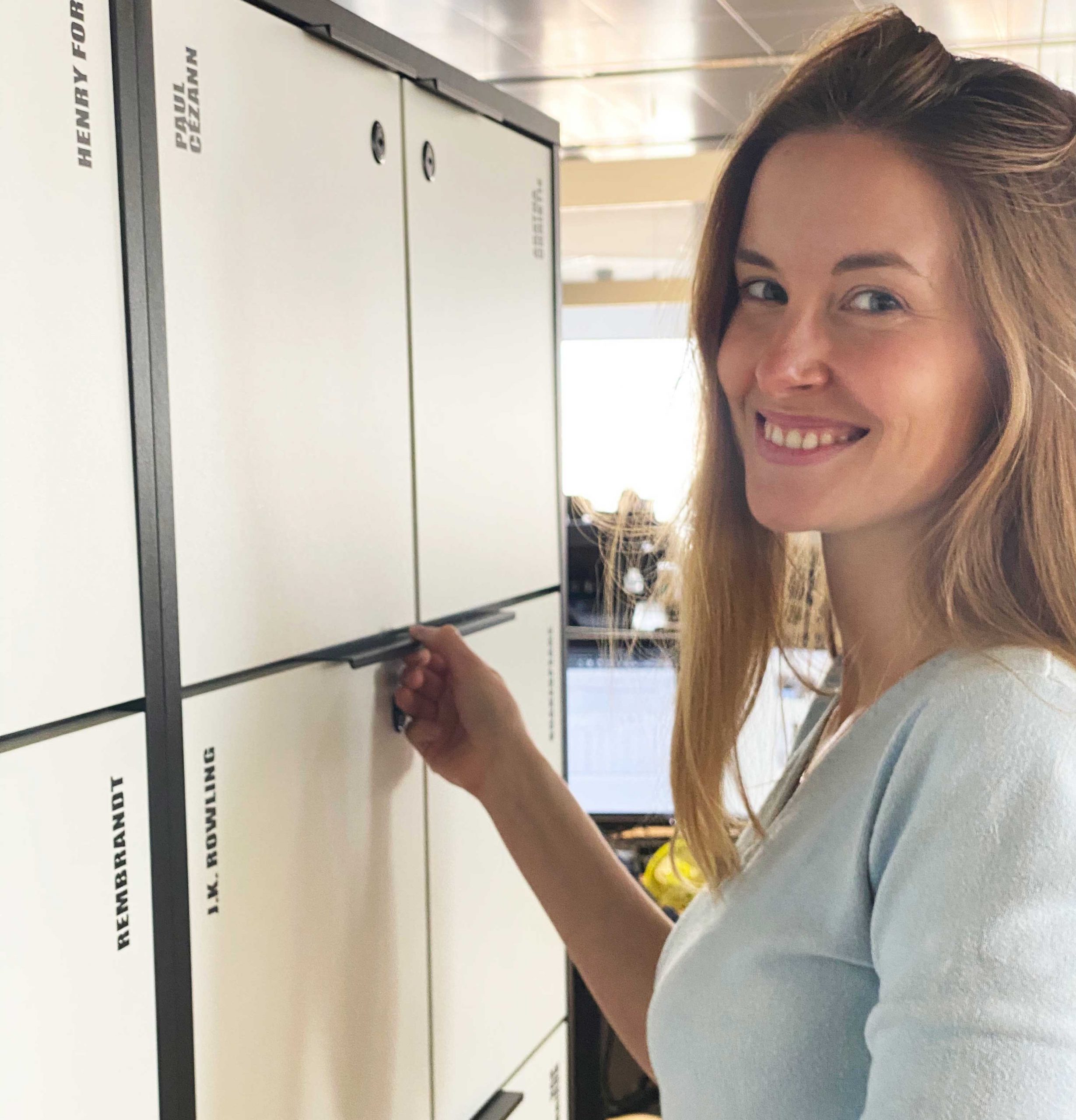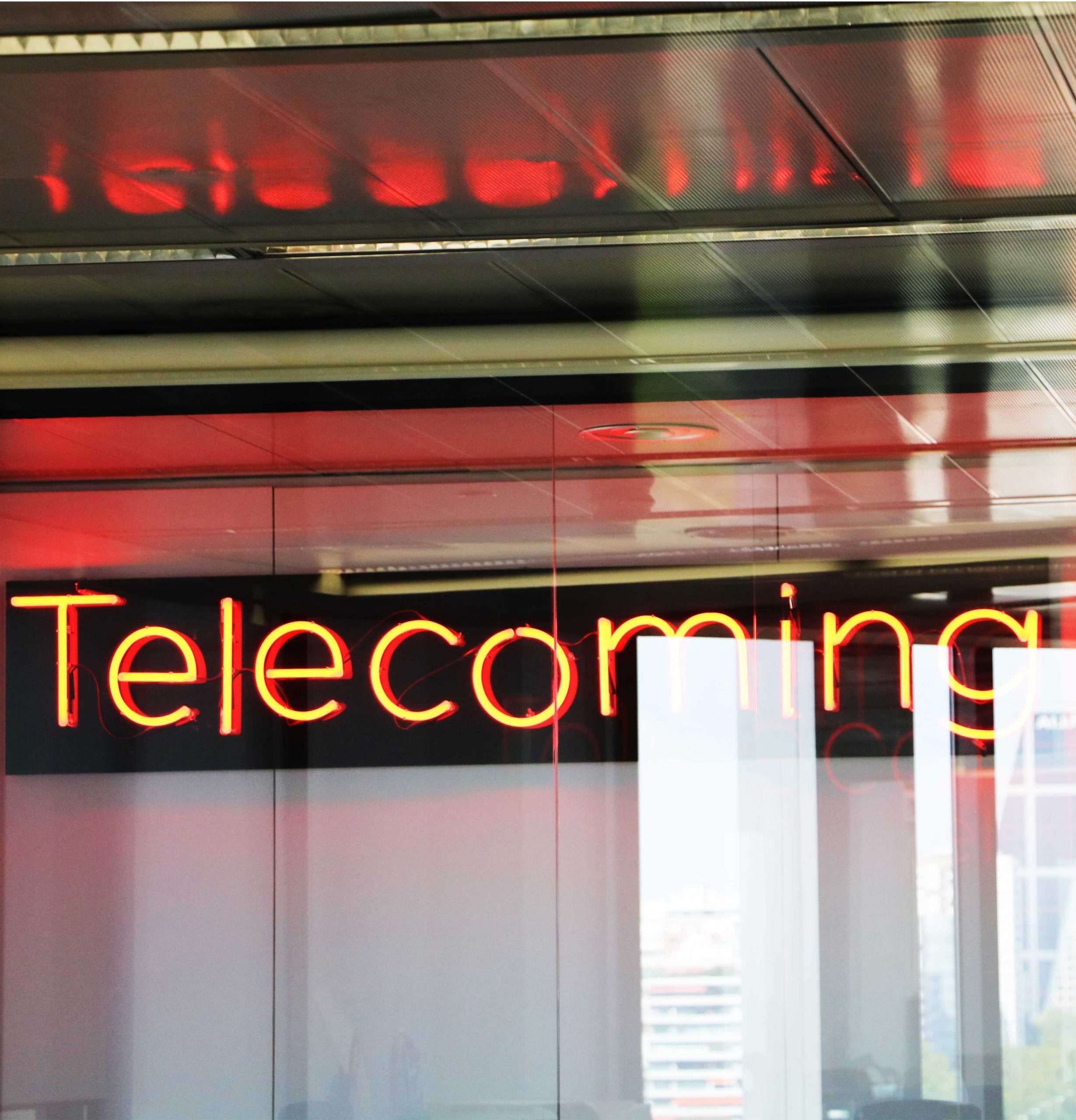 Floor 8th: a multi-purpose hall
Without further ado, we come to our favourite place… the 8th floor! It is a multidisciplinary space where we welcome our customers; we organise events, and we enjoy our well-deserved break.
All the furniture you can find here can be folded down because our 8th floor was designed to be a space that offers multiple possibilities.
It is an open room with different areas: the kitchen, the reading area, a big dining room for everyone… We even have a TV where we watched the final episode of Game of Thrones… super exciting!
This space was a project carried out with a lot of love. In addition, we presented it to our team as a surprise. Cyrille Thivat, our Chief Executive Officer, had the opportunity to inaugurate the 8th Floor by cutting a red ribbon – everyone was delighted with the surprise!
The brief we gave was very clear; we wanted it to be a space completely different from the office, where people could come here and disconnect. We were looking for a modern and welcoming aesthetic. We wanted the team to feel at home. As Miriam Fernández, Events & Internal Brand Manager at Telecoming says:
"To do this project, we contacted several suppliers. We explained to them how important teams interactions are for us. Besides, we wanted this space to be used for different events and other projects. I am thrilled to have had the occasion to participate in the creation of this space. We have done it with great enthusiasm, taking care of every detail to make sure everything was perfect".
Thank you for sharing this tour with us! We hope you enjoyed our workplace. If you want to find out more about life in the company, be sure to visit BEX: Telecoming's Brave Employee Experience, we look forward to seeing you!
 Subscribe for
Weekly Stories