How technology helps Super Bowl excel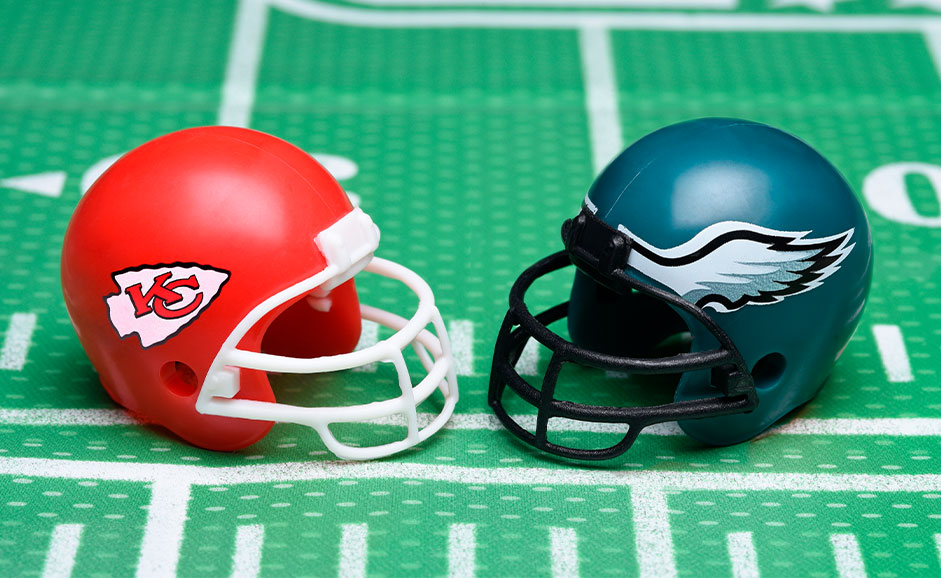 On February 12th one of the biggest sports events of the year takes place: the Super Bowl 2023. The State Farm Stadium in Arizona will host the event. It is located in the town of Glendale with a seating capacity of 63,400 spectators (expandable to more than 70,000 for major events). Wow!
As a sportech company specialized in developing and distributing mobile experiences for sports fans, there is no wonder that events like this get us excited. Super Bowl is usually one of the most spectacular shows that you can watch (or attend, if you are lucky enough!). An event where technology is an essential asset that brings the excellence it deserves – but, how is it used to enhance one of the most expected sporting events of the year? Below, we take a closer look at it.


NFTs did not miss last year's event
In the 2022 Super Bowl edition, the NFL gave its audience personalized NFTs. These peculiar tickets had the description of the section, row and seat, becoming a forever souvenir for fans, thanks to blockchain technology.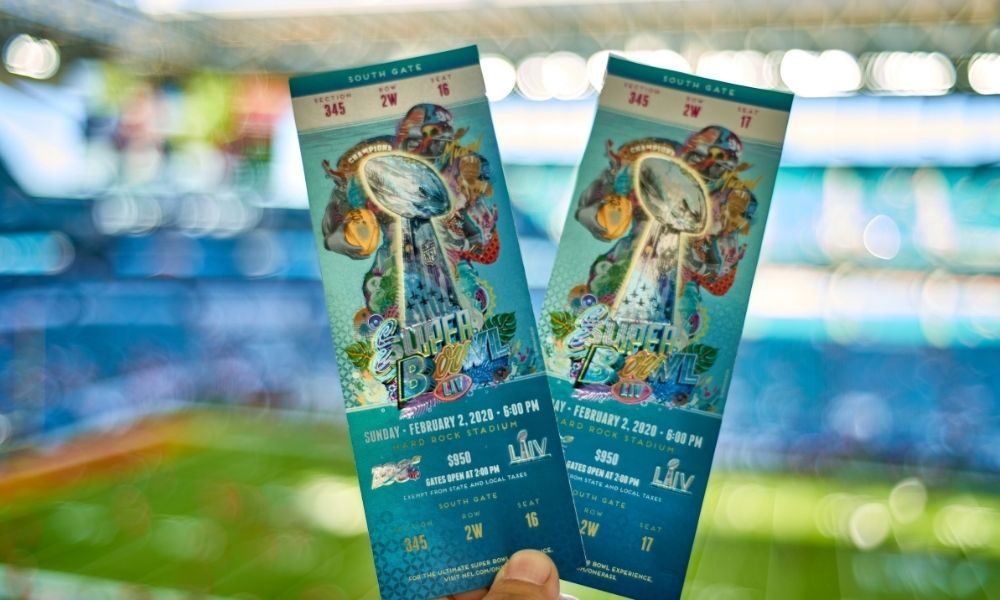 In addition, NFTs were also featured during the music show. Rapper Snoop Dogg, wore a custom outfit with the Genesis NFTs, a collection of illustrations created by a group called Utopiea. Artists have the ability to bring visibility to new methods of pushing technology, and this is a perfect example.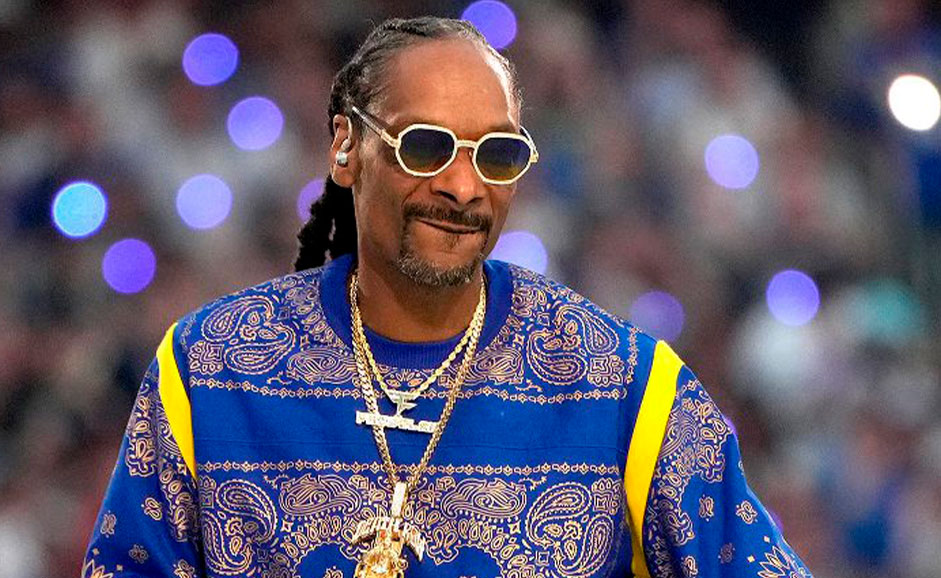 Please, don't stop the music!
Undoubtedly, one of the most expected moments of the Super Bowl is the halftime show. Some of the world's most recognized artists have performed their greatest hits during this 15-minute break. Katy Perry, Lady Gaga, Bruno Mars, Red Hot Chili Peppers, Michael Jackson, and Beyoncé, are just an example of those artists that gifted us some of the most spectacular performances of all times. It goes without saying that the halftime show, and its audiovisual exhibit, have played a key role in engaging spectators all around the world.
In this edition, it's Rihanna's turn! It is said that she will sing a repertoire selected by the Roc Nation company owned by rapper Jay-Z, who is in charge of the NFL's live music entertainment strategy. If you want to get ready for the occasion, you can access this playlist that Apple Music has prepared. Discover it here!
Data & metrics: the NFL's allies
AWS and the NFL have developed the Next Gen Stats (NGS) system that provides real-time information for each game. For instance, with a Expected Return Yards tool and by using Artificial Intelligence (AI) and Machine Learning (ML) engines, they can calculate how many yards a returner will gain from the moment they catch the ball.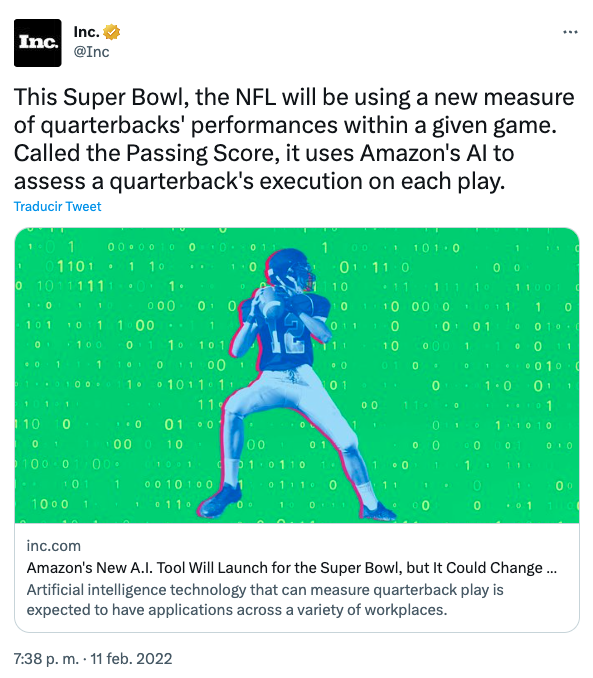 Thanks to data , players and coaches can review plays to analyze the game and plan their strategies for the competition. Data also helps prevent future injuries and facilitates taking care of the players' health.
Last year we saw how AI measured performaces through a Passing Score metric. This technology, also developed by AWS, was born from the NFL's interest in obtaining a better evaluation and improving decision-making.
Another example of tools used to monitor performances and plan strategies, is RFID. Used by a third of the teams, thanks to tags installed both on the shoulder pads of players' equipment and on football balls, the tool provides insights into aspects such as speed, strength, acceleration, proximity, and distance traveled. In the case of any type of injury, it is possible to know where the problem comes from, as well.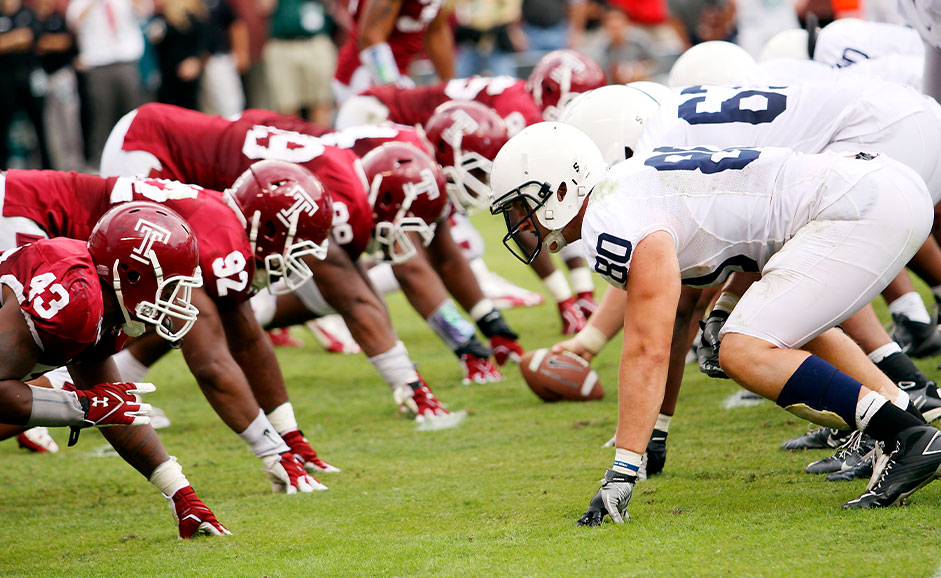 World's best advertising (and most expensive) exhibit
Commercials are also an essential part of the Super Bowl show. This matter always gets a great attention from media, brands, and fans. This year, the Super Bowl organization has sold all of its ad spaces to big brand names such as Doritos, Pepsi and Google.
Mark Evans, executive vice president of ad space sales at Fox Sports, has declared that some of those advertising spaces have been sold for more than $6,5 million. That's the price for a 30-second lenght spot.
In previous editions, other tech companies also made their mark with their campaigns. This is the case of brands such as TMobile, GoPro, PayPal or FitBit among others. Of course, we couldn't end this post without sharing with you some of the most epic Super Bowl spots.
Of course, we couldn't end this post without leaving you with some of the most mythical Super Bowl spots.
Coca-Cola – «Hilltop» (1972)
Budweiser – «Whassup» (2000)
Google – «Parisian Love» (2009)
Tide – «It's a Tide Ad» (2018)
Cadillac – «ScissorHandsFree» (2022)
The Super Bowl is a perfect example of how sports and entertainment embrace technology to connect and engage with audiences. We can't wait to see what the Super Bowl 2023 has in store for us.
The countdown has just begun!